ABOUT
Lair Torrent
Lair Torrent is a clinically trained and licensed marriage and family therapist and a mindfulness-based relationship therapist. He attended the Helix Training Program, a rigorous four-year, multi-discipline training in psycho-spiritual counseling and work in personal transformation based in New York City. His graduate work was conducted at Mercy College under Dr. Evan Imber-Black, world-renowned marriage and family therapist, where his research focused on couples and the work of Susan Johnson's Emotionally Focused Therapy.
Lair is a DailyOm bestselling author and has been a contributing columnist at Inc.com, He writes, speaks publicly, and holds workshops and seminars on relationships, and mindfulness, as well as mindfulness and its effects on racism and children. Lair has published articles on his work, and has been resourced and interviewed by such notable news outlets and publications as NPR, Rolling Stone, and the New York Times for his expertise in working with struggling relationships.
LAIR TORRENT
Born to a fifteen-year-old mother in abject poverty Lair saw few examples of connective, loving functional relationships. As a young man he began recapitulating those same behaviors of disfunction in his own life. Committed to change Lair began a lifelong journey of self-exploration and healing, which has culminated in his work as a therapist. Less than an "expert" he considers himself a fellow practitioner of the principles he offers, trying to do it little better tomorrow than he did it today
Mindfulness is the foundation of Lair's work as a therapist and a coach. It is a tool that brings clarity to your path and connects you to yourself and what it is you do. Mindfulness provides a way for us to truly know ourselves, what motivates our choices and what blocks us from attaining our goals. In addition, Lair possesses an in depth understanding of the universal laws of attraction. Combining these two powerful techniques, Lair has helped hundreds of clients thrive and discover the abundance and prosperity in their work.
In a safe and nurturing environment, clients are able to explore their present difficulties with a look to how their past may be influencing their struggles. Through this process, clients are able to transform their negative inner narratives, manage their anger, their stress and their depression; allowing them to find more balance and peace.
"Doing your personal work, either in therapy or on your own, gives you the power to rewrite your history" – LAIR TORRENT, LMFT
The Practice Of Love
With his experience and expertise in the field, Lair Torrent presents his book.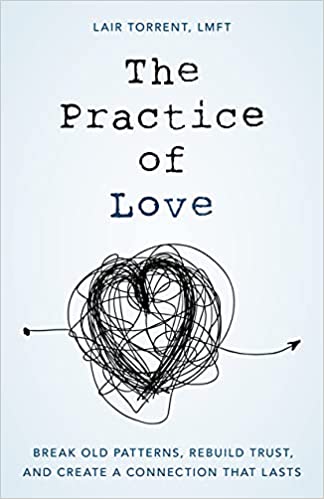 In his work, Lair Torrent brings together concepts and tools that can actually help couples heal for the long haul. Diving beneath the symptoms most therapies focus on, he helps couples develop a deeper understanding of the wounds that brought them together and how they show up in their relationships.
Speaking Your Truth
in Relationships
* You will be redirected to DailyOM website for Lair's course.
Every relationship meets adversity at some point. You need the tools to navigate the rough times and this course gives you those tools. Speaking Your Truth in Relationship course covers 7 weeks of learning with each week something new.